-TO GET TO KNOW US-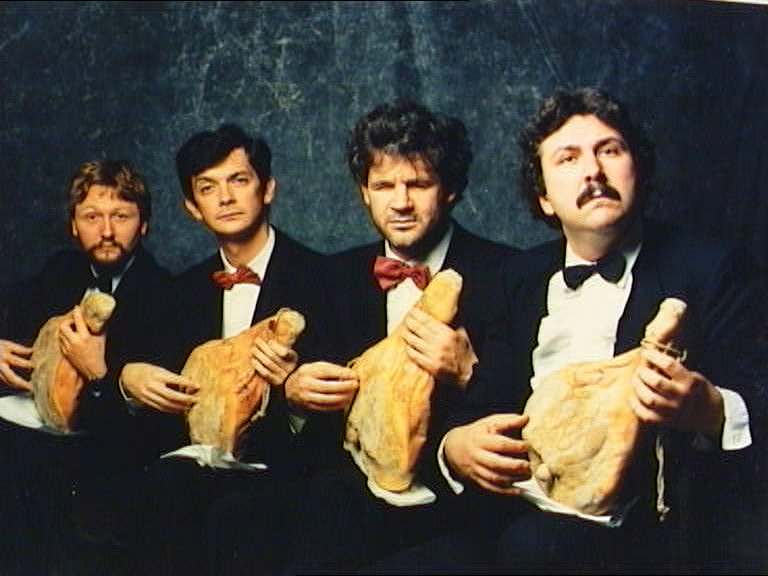 » Name?
Gruppo Emiliano.


» Meaning??
A group of four souls bound by friendship and the insesant need to make music rather than just listen to it.


» What does it do?
Music!! Which we've already said, and more precisely traditional folk music from Emilia which was played previously to the popular "ballo liscio", but much more, because it's pleasurable to see them perform.


» Age?
Around thirty years old (started in 1975): one of the oldest groups of this kind of music, a little because of our insistance and maybe stubborness and a little because the other groups in time have mended their ways. The Gruppo Emiliano has passed unscathed through the stages of the reproposals of folk music to the public by taking pieces of original music and putting new words to the songs (Ask who has seen them).


» Sound?
Playing, which is a pleasure and if it's not filled.....with happiness and exuberance from people who firmly believe that success on stage isn't tied to electronic tricks but to muscular strength, the physical hard work of making music and the pleasurable experience from reducing the distance between musicians and public.


» Instruments?
Guitar, violin, accordeon, doublebass, flute, bagpipes and "zampogna" (italian bagpipe), clarinet, voices and other ineffable wonders like the "ocarinas", the duet of a violin and cello made with a brush and balloon, strange viola made with a rolling pin, spoons for accompanying rhythm and so on.


» Artistic ideal?
Given the difficulty in keeping them, even though we put the joy of eating before that of mixing music, we are still among the few who believe that music is primarily a way of enjoyng yourself and celebrating.


» Names?
- Marco Chiappelli - guitar, mandolin, voice.
- Paolo Giacomoni - violin, accordeon, voice, nichelarpa.
- Roberto Losi - flutes, ocarina, voice.
- Gian Emilio Tassoni - doublebass, voice.


» Address?
Gruppo Emiliano,
c/o Paolo Giacomoni
via E. Brizio 5, 40134 Bologna
Tel: 051 614 28 03 - 334 83 00 187
Fax: 051 54 57 49
e-mail:
paolo.giacomoni@fastwebnet.it